Excavator and Loader Couplers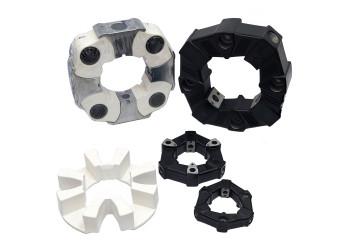 Centaflex is a series of flexible couplings used to connect two shafts in mechanical systems such as engines, drives, pumps, and other industrial applications. The manufacturer of the Centaflex series of couplings is CENTA, a company specializing in the development and production of flexible connections for various industries.
A Centaflex flexible coupling is characterized by its high elasticity and ability to compensate for radial, axial, and angular misalignments between shafts. They provide smooth torque transmission, reduce vibration and noise, and protect equipment from overloads.
The Centaflex series includes various models of couplings that may differ in size, characteristics, and materials of construction, such as polyurethane or rubber. Some models may have special design features, such as torsion springs or gear engagements, to improve the elastic properties of the coupling.
To select the appropriate Centaflex flexible coupling for your application, consider the characteristics of the equipment, operating conditions, and shaft specifications.


Marking

Vendor code

D, mm

TK, mm

A, mm

E, mm

Marking

Vendor code

Tk

D1

A

Centaflex-A size 1

CF-A-001

56

44

24

22

Centaflex CF-H-8

Type 8H

CFH008

100

125

32

Centaflex-A size 2

CF-A-002

85

68

24

20

Centaflex CF-H-16

Type 16H

CFH016

120

155

41

Centaflex-A size 4

CF-A-004

100

80

28

24

Centaflex CF-H-25

Type 25H

CFH025

140

182

47

Centaflex-A size 8

CF-A-008

120

100

32

28

Centaflex CF-H-30

Type 30H

CFH030

165

205

56

Centaflex-A size 12

CF-A-012

120

100

32

28

Centaflex CF-H-50

Type 50H

CFH050

165

205

50

Centaflex-A size 16

CF-A-016

150

125

42

36

Centaflex CF-H-90

Type 90H

CFH090

165

215

56

Centaflex-A size 22

CF-A-022

150

125

42

36

Centaflex CF-H-110

Type 110H

CFH110

180

230

56

Centaflex-A size 25

CF-A-025

170

140

46

40

Centaflex CF-H-140

Type 140H

CFH140

215

270

56

Centaflex-A size 28

CF-A-028

170

140

46

40

Centaflex CF-H-160

Type 160H

CFH160

215

270

59

Centaflex-A size 30

CF-A-030

200

165

58

50

Centaflex CF-H-240

Type 240H

CFH240

260

330

65

Centaflex-A size 50

CF-A-050

200

165

58

50

Centaflex CF-H-400

Type 400H

CFH400

324.5

397

58
Used in: Hitachi ZX330, Hitachi ZX120, Hitachi ZX160, Hitachi ZX110, Hitachi ZX130