Repair of engines and hydraulic pumps / motors.

We repair Isuzu engines of any models and modifications with a warranty at affordable prices.
Professional technicians, who work in ASPECT PLAS, will promptly conduct a diagnosis and make a quality repair of hydraulic pumps and hydraulic motors of equipment: Doosan, Hyundai, Volvo, JCB, HITACHI, CASE, Kobelco, CAT, Komatsu.
By contacting us you get the opportunity to repair the equipment with the installation of identical parts and you will be sure in the quality of work performed.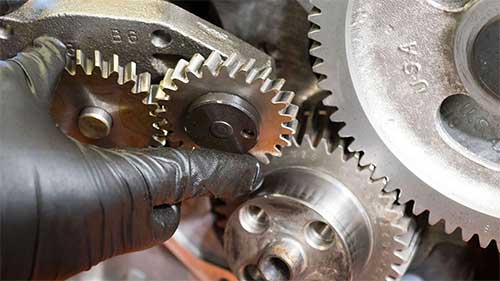 Hydraulics systems are used in various types of special machinery and are an important element responsible for the implementation of their basic function. Periodic monitoring of the technical condition of the hydraulic pump or hydraulic motor is an indispensable part of the comprehensive programme for the prevention of possible breakdowns. Therefore, the diagnosis of hydraulic systems, hydraulic motors and hydraulic pumps must be performed by professionals with high technical qualification and experience with the leading industrial brands.
All components for hydraulic systems are manufactured using original technologies, protected by international patents. When repairing a hydraulic motor or hydraulic pump which has failed, operators often encounter a serious problem which blocks the entire operation. This is the lack of original spare parts from different manufacturers. We have found a solution to this problem..

The company "Aspect plus" has a wide assortment of original accessories for branded hydraulic pumps and motors. Our specialists produce repair engines Isuzu any models and modifications with a guarantee and at affordable prices.



Large inventory of major spare parts for engines is available ISUZU (4HK1 6HK1 4BG1 6BG1 4BD1 6BD1 4JJ1 3LD1 3LD2), used in machines AICHI, BOBCAT, CASE, DENYO, DOOSAN, FIAT KOBELCO, HIDROMEK, HITACHI, IHI, JCB, JOHN DEERE, KOBELCO, LBX, NEW HOLLAND, SANY, SUMITOMO, XCMG.

In addition, we offer customers the choice of both original ISUZU spare parts and OEM (IZUMI) / licensed (MAHLE, SpinpartS) replacements. That said, analogous components, the installation will allow you to save significantly on the current repair of hydraulic pump, not inferior to the quality and functionality of leading brands in industrial hydraulics.
Basic indications of a fault in the hydraulics.
When operating the hydraulics equipment, the amount of operating fluid in the system must be monitored at all times. If other houses are fed into the system, this can lead to malfunctioning of all equipment and expensive repairs in the future. You can judge whether or not the cooling equipment is operating correctly based on acoustic parameters:
noise occurring when switching on or off;
unusual sounds during standard operation of the equipment;
vibrations in some parts of the hydraulic system

If necessary, carry out a technical diagnosis of the entire system.

Original spare parts for hydraulic pumps/hydro engines:
- Kawasaki K3V63/112/140/180/280, K5V80/140/160/200, M2X120/146/150/170/210;
- KAYABA MAG85, MAG170, MSF170, MSF340;
- Hitachi HPVO102/105/118, HPV145;
- LINDE HPR55/75/90/100/105/115/130/135/160; HPV55/75/105/135, HMF75/105/135, HMV55/75/105/135, HMR75/105/135
- Toshiba SG02/04/08/15/20;
- Bosch Rexroth A4VG28/40/4556/71/91/125/180, A6VM55/80/107/140/160/200/250, A8VO55/80/107/120/140/160/200, A10V17/21/28, A10VO28/40/45/63/71/74/100/140, A10V43, A10VD43
- LIEBHERR LPVD45/64/75/90/100/125/140/160/165;
- KOMATSU HPV35/55/75/90/95/112/132/140/160/165
For fast resolution of all issues related to the repair of hydraulic motors and hydraulic pumps, contact the managers of ASPECT PLUS.